Transformer - 10KVA Multi Socket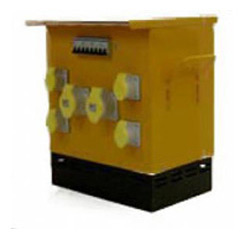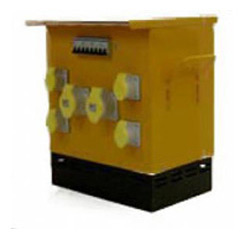 Specifications
10 Kva Single Phase Site Transformer.
Enclosure:
Robust heavy duty case conforming to IP44 with two carry handles and mounted on skids. Finished in red with yellow front and back plates.
Transformer:
10.0KVA continuous rated isolating transformer, Input 230 volts 1-phase @ 40 amps
Output 110 volts Centre tapped to Earth (55-0-55V) @ 90 amps
Insulation class B
Frequency 50/60Hz
Sockets:
4 x 110 volt 16 amp and 2 x 110 volt 32 amp 2P+E IP44 rated to BS4343, CEE17, IEC309, 1-2.
Protection:
Input: 40 amp 2 pole type D MCB.
Output: 2 x 16 amp and 2 x 32 and 2 pole type "D" MCBs,
All housed under metal IP44 window.
Dimensions:
H: 660mm, W: 420mm, D: 440mm
Aprx Weight:
66 Kg
Or, for further information or to book this item call us on
01562 744994